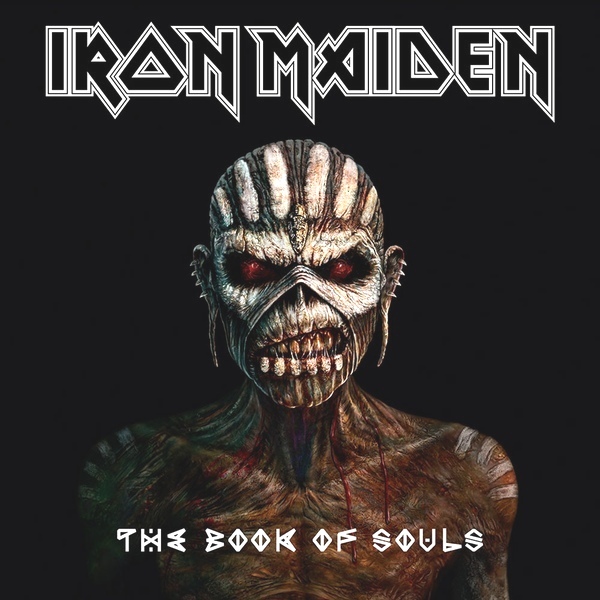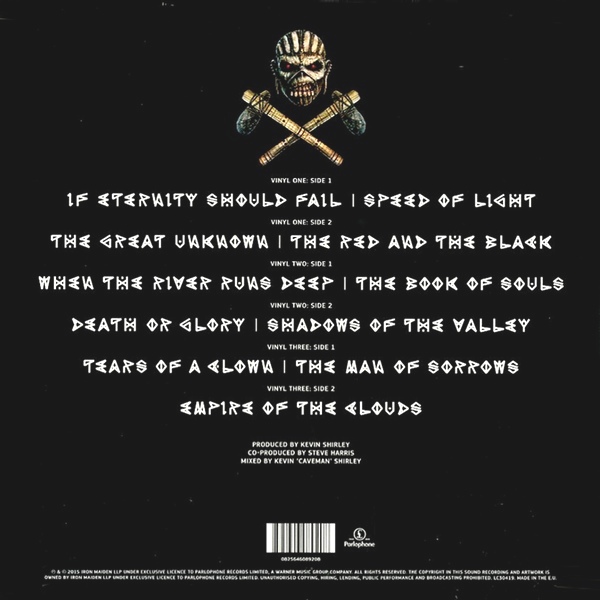 Released 4 September 2015
The "Book of Souls" is the sixteenth studio album.
The album was produced by long-time Iron Maiden collaborator Kevin Shirley and recorded at Guillaume Tell Studios,
Paris from September to December 2014.
It is the band's first studio double album, and therefore also their longest to date, with a total length of 92 minutes.
It also marks the longest gap between studio releases in the group's career at five years.
Harris states that many of the songs were written and immediately recorded in the studio, adding to the record's "live feel".
Guitarist Janick Gers explains that this involved abandoning their previous approach of spending several weeks writing and rehearsing,
which meant that they "went into the studio with only outlines and finished writing the songs in the studio - so we were actually learning them,
rehearsing them, and putting them down all at once".
According to guitarist Adrian Smith, the pressure this created was positive "because it snaps you into action".
Gers states that each member brought in approximately an hour of original music to the sessions,
even though they "might only want to use 15 minutes of it",the result being "a really broad spectrum of musical ideas".
As with all of their studio collaborations with Shirley, most of the album was recorded live with lots of first takes used for added spontaneity.
"Shadows of the Valley", "Death or Glory", "Speed of Light" and "If Eternity Should Fail" were the first songs written for the album,
the last of which, according to Dickinson, was originally written for a potential solo album and features the band's first collective use of drop D tuning.
Smith states that "Speed of Light" and "Death or Glory" were two of a small minority of tracks completed prior to the recording sessions, and mark the first collaboration between Smith and Dickinson (without Harris) since both members rejoined Iron Maiden in 1999.
The release's final song, "Empire of the Clouds", as the band's longest song at 18 minutes in duration.
The track features Dickinson on piano for the first time and is based on the 1930 R101 airship crash.
According to Smith, Dickinson spent most of the album's recording sessions alone writing the song in a "soundproof glass box with his piano",
which he completed with assistance from McBrain.
Smith states that it was a challenge to record as Dickinson "laid down the piano on his own" and the band then "played along to that"
while following Dickinson and Shirley's instructions.
Along with opener "If Eternity Should Fail", it marks the first Iron Maiden album since Powerslave which features two tracks written solely by Dickinson.
It is both the longest Iron Maiden studio album and their first double studio record.
Speaking about the running time, Dickinson comments "we all agreed that each track was such an integral part of the whole body of work
that if it needed to be a double album, then double it's going to be!"


---
Permissions in this forum:
You
cannot
reply to topics in this forum