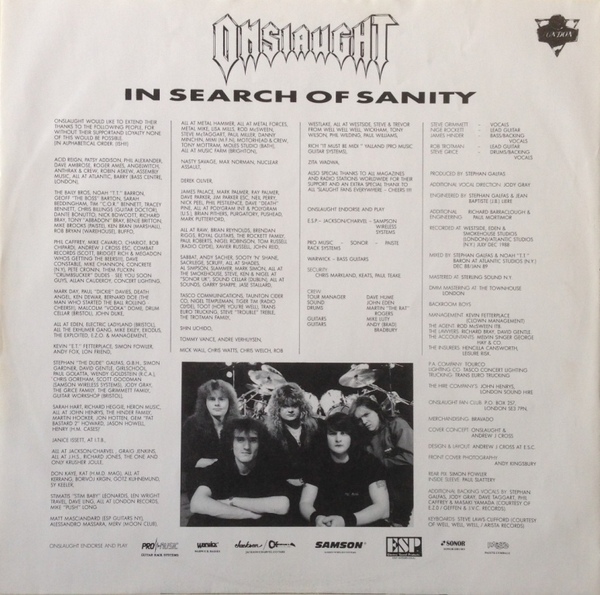 Released 22 august 1989
Let's check in on the career of one of metal's greatest singers, Steve Grimmett.  
After the demise of his band Grim Reaper, Steve took his bullet-proof voice and word-class mullet over to another British band, Onslaught.  
The union lasted for just one album, but what a fine piece of hardware it was!  
With the addition of the corpulent one to their lineup, Onslaught made a sonic shift from a butt-ugly,
Venom-inspired brand of thrash to a more surgically precise, melodic thrash style (in the vein of Metallica, Anthrax, or Testament).  
Indeed, the thrash world had never had a voice of Steve's caliber in its ranks, and the juxtaposition of Grimmett's traditional metal voice
with Onslaught's newer, crisper brand of thrash was certainly something to behold.  
This new dynamic can be best heard on the brilliant title track, where Grimmett's soaring vocals lift the chorus to magestic heights.
Unfortunately, all was not as perfect as it should have been for Onslaught's In Search Of Sanity.  
A couple of tactical errors downgrade the album just a bit.  
First, the album opens with a useless intro track called Asylum.  
This track is nothing more than ambient noise — which stretches on to over five minutes!  
I can't remember an intro ever being so long and worthless as this one!  
Another major flaw with In Search Of Sanity is that the songs themselves are too long.  
Six of the songs clock in at over six minutes, with Welcome To Dying coming in at an egregious 12:41!  
If you have to stop a song just to take a piss break, then the song might just be too long.  
This sucks, because Welcome To Dying would be a GREAT song if it was cut down to five minutes or so.

---
Permissions in this forum:
You
can
reply to topics in this forum