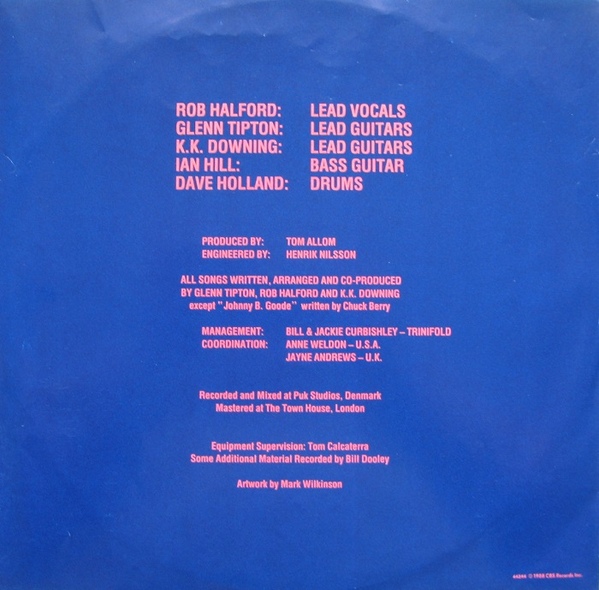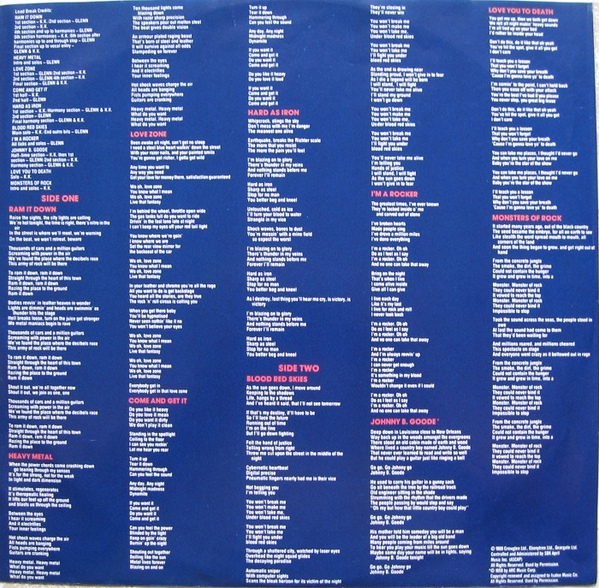 Released 17 may 1988
Is it too much to ask of one of the world's premier metal bands to actually get a human being to play the drums on their record?  
Apparently so.  
On Ram It Down, I suspect that most of (if not all) the tracks use a drum machine instead of an actual person.  
How rock 'n roll is that?  
Not very… not very at all.
Bottom line: Ram It Down is just another bungled hack job by a clueless Judas Priest.  
I'm always a little hard on Judas Priest for these 1980s albums because I know they were capable of so much more.  
After all, their seminal 1970s albums Sad Wings Of Destiny, Sin After Sin, Stained Class,
and Hell Bent For Leather are timeless heavy metal masterpieces!  
That's why I'm saddened by Judas Priest works such as Ram It Down.  
The pathetic, pandering lyrics on this album are just brutal to listen to.  
And the clanky production job by Tom Allom has about as much warmth as a snowman's cock.  
Ram It Down, you see, is the sound of a band on its heels —
a reactionary band trying too hard to be what they thought everyone wanted them to be.  
Hilariously underestimating their fans in the process.  
(Well, maybe not ALL their fans.  Ever seen Heavy Metal Parking Lot?  Awesome.)
What does Ram It Down have going for it?  Well, for one, it's not Turbo.  
That is to say, it's not a Cleveland steamer on my chest.  That's a good start.  
Even though Ram It Down supposedly contains a bunch of leftovers from the Turbo sessions,
it's still not the complete puss-filled abscess that Turbo was.  
Heck, one track on Ram It Down is downright excellent — the blazing, ball-crushing Hard As Iron!  
Crap production and drum machine be damned, this track ROCKS!  
Elsewhere, Ram It Down is a pretty ferocious metal storm, and Blood Red Skies is a decent little curio.  
Much of the rest of the album is pretty lame though.  
Sadly, the album closes on a career low point for Priest —
an abortion by the name of Monsters Of Rock, one of the most pitiful pieces of crap you'll ever stab yourself to.
The ripper:
For me, this album had a great sound, innovative for its time and good songs.
Last edited by The ripper on Wed 7 Oct - 8:54; edited 1 time in total


Similar topics
---
Permissions in this forum:
You
cannot
reply to topics in this forum