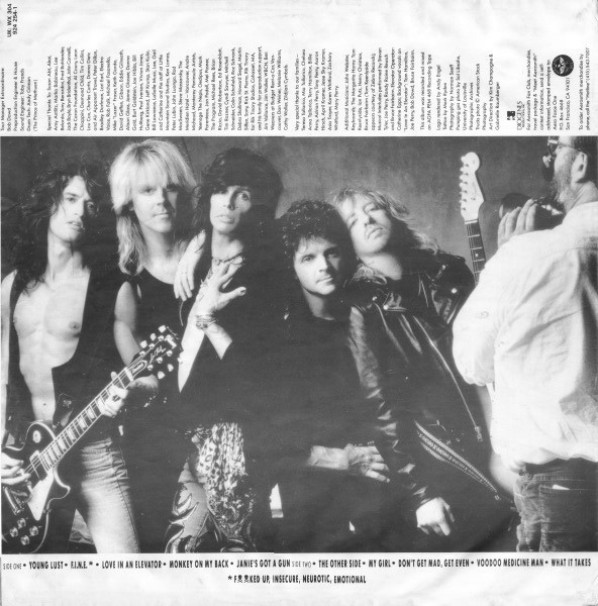 Released 12 september 1989
Once on the brink of extinction in the early eighties, Aerosmith were back in the saddle by 1989.  
Aerosmith surpassed the blockbuster success of 1987's Permanent Vacation with the 1989 album Pump.  
You would think that would put a smile on Joe Perry's perpetual "bitchy resting face", but nay.  
Bruce Fairbairn oversaw the production, which is brimming with meticulous detail.  
There's lots of extra instruments, vocal tracks, and special effects piled on.  
(Can they pull this off live?)  
Pump is best remembered for the hits Love In An Elevator, Janie's Got A Gun, The Other Side, and What It Takes.  
Stephen Tyler litters the place with an endless barrage of double (and single) entendres.  
He seems a bit enamored with himself — he thinks he's more clever than he actually is —
but I never decry AC/DC for the same juvenile behavior, so I won't do it here to the man with the gaping pie hole.  
It is, after all, rock 'n roll.  (But he's kind of exhausting, ain't he?)  
Honestly, I like Permanent Vacation a bit more than Pump.  
Aside from the aforementioned singles, the remaining songs seem somewhat underdeveloped in comparison.
---
Permissions in this forum:
You
can
reply to topics in this forum