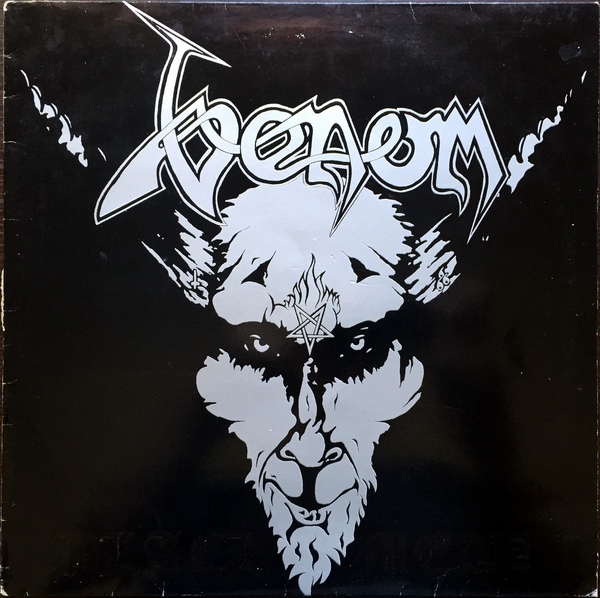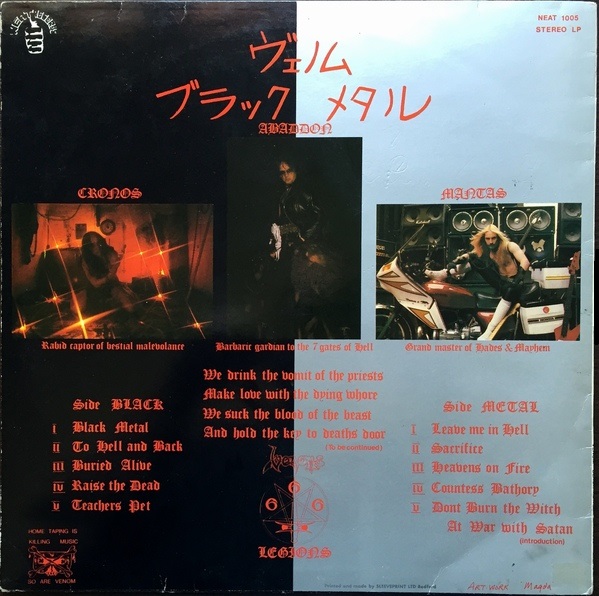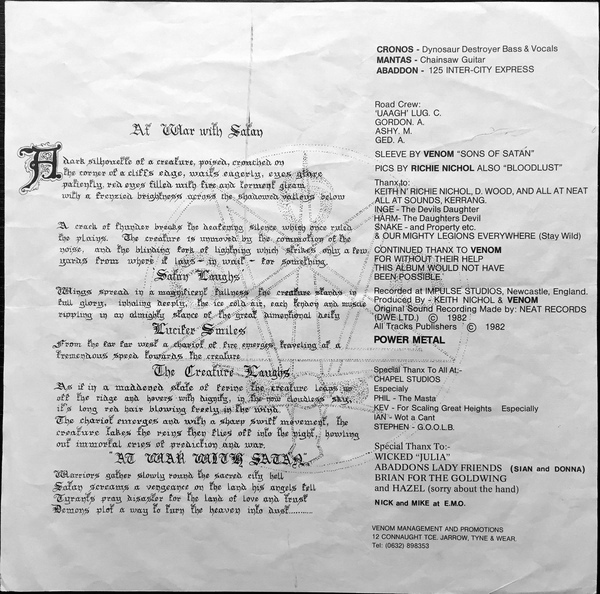 Released 1st november 1982
If the stench of Satan's steaming stool could somehow be converted to an audio equivalent, it would sound like Venom's Black Metal.  
This 1982 album and Venom's 1981 debut, Welcome To Hell,
have turned out to be highly influential and quite revered in certain metal loving communities.  
Serendipitously, Venom helped spawn certain extreme styles of heavy metal including thrash and, of course, black metal.  
I'll spare you the history lesson, but all you need to know is that Black Metal was considered the 50th greatest heavy metal album
of all time in Martin Popoff's book The Top 500 Heavy Metal Albums Of All Time (based on an extensive poll).
Obviously, there are many ways to enjoy music.  
To appreciate Black Metal I think one has to find satisfaction in the attitude of the music, the atmosphere it creates,
and an appreciation of  the artist's expression and/or innovation.  
This is where I think Black Metal draws appeal.  
In terms of musicality, Black Metal is pretty much an abomination.  
The playing is marginal, the singing is atrocious, and the song writing is shit.  
Venom showed that you don't have to know how to sing or play an instrument to create music that can find favor with fans.
As I said, there are many ways to enjoy music, but in the end it is how the music makes you feel that governs whether
or not you wish to hear it again and again.  
Personally, I usually need a decent singer and something that makes me want to sing along
(in my head, not out loud… okay sometimes out loud) or feel energized.  
Although I love to find obscure albums, my tastes are pretty predictable and mainstream.  
Therefore, the cartoon Satanism, belched vocals, tuneless songs,
and toilet production of Black Metal keeps it from making anything more than a token appearance on my ol' stereo system.
Last edited by The ripper on Wed 14 Oct - 17:20; edited 1 time in total
---
Permissions in this forum:
You
can
reply to topics in this forum