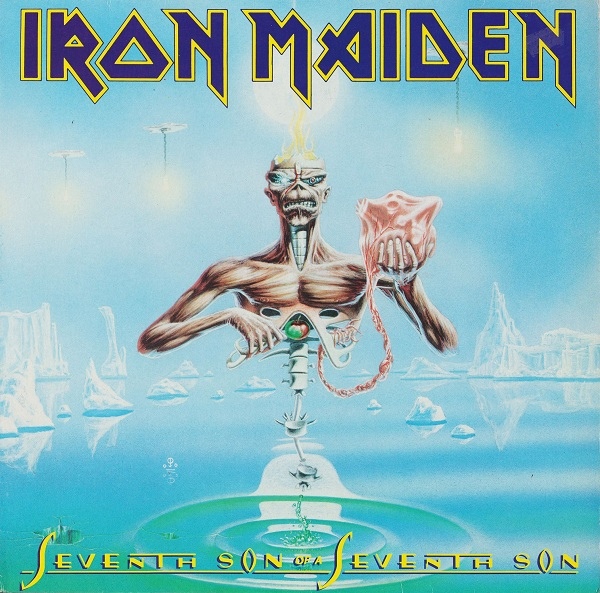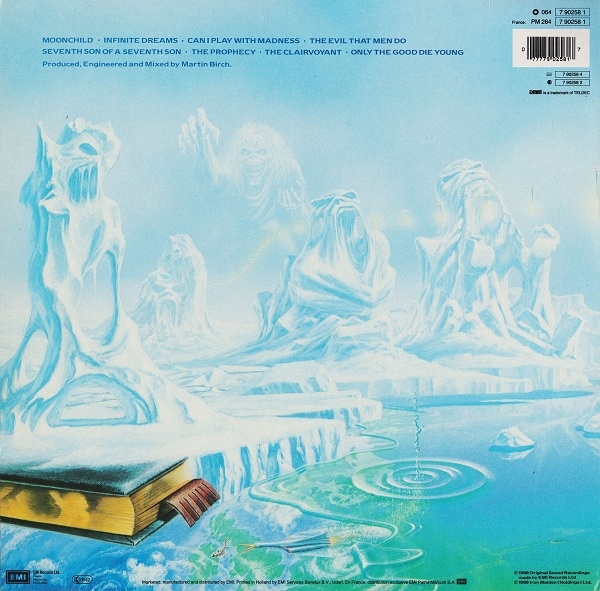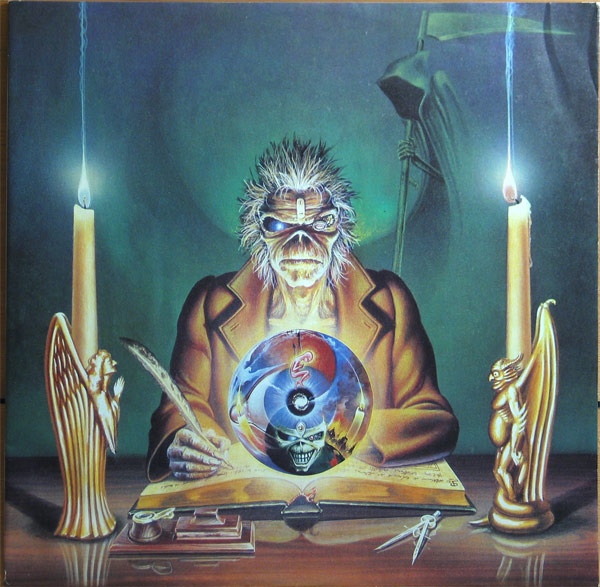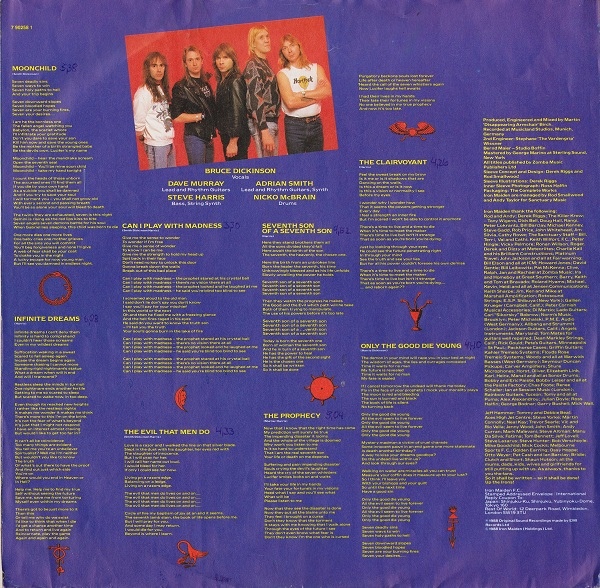 Released 11 april 1988
In a couple of days I'll be seeing Iron Maiden on their "Maiden England 2012" tour.  
On this tour, Maiden will be revisiting their 1988 tour for the Seventh Son Of A Seventh Son album.  
As such, I'm expecting the set list to include quite a bit from that album,
so I've decided to give my Seventh Son Of A Seventh Son CD a fresh listen in preparation for the show…
Ya know, Seventh Son Of A Seventh Son has never been a favorite of mine.  
And as I listen to it again for the first time in a few years,
I have to say I'm still not completely taken with this Maiden album as much as I am with The Number Of The Beast (1982),
Piece Of Mind (1983), and Powerslave (1984).  
Though Seventh Son Of A Seventh Son houses one of my favorite Maiden tunes of all time,
The Evil That Men Do, I feel that here Maiden didn't sound as vicious, as hungry, as on those previous albums.  
I guess that should be expected, given that Maiden had climbed to the top of the heavy metal mountain
and didn't have much left to prove.  
That's not to say that Maiden sounded complacent on this record.  
If anything, they tried to stretch their boundaries a bit,
something they had also tried (to lukewarm results) on Somewhere In Time (1986).  
However, I find Iron Maiden to be a tad pretentious and long-winded on Seventh Son Of A Seventh Son.  
Don't get me wrong, Seventh Son Of A Seventh Son is still a very good album
(an average Maiden album is still a very good heavy metal album),
and it is not nearly as bloated as Somewhere In Time.  
The aforementioned The Evil That Men Do highlights the album;
it is the most bad-ass and to-the-point track on the record.  
Can I Play With Madness and Only The Good Die Young are also pretty good.
On the downside, the title track goes on for nearly ten minutes, which really bogs down side two of the album,
and The Prophecy fails to make an impression.  
Also, the loose concept of the album is kind of lame, and some of the lyrics seem forced into place.  
I think it is possible Maiden put too much emphasis on the story line and not enough thought went into the actual vocal arrangements.  
But hey, it's still Iron f*cking Maiden at the end of the day.  Maybe I'm just a bit picky because I hold Maiden to such a high standard.
The opinion of The Ripper:
Not the best album!
The band is able to do better.

---
Permissions in this forum:
You
cannot
reply to topics in this forum