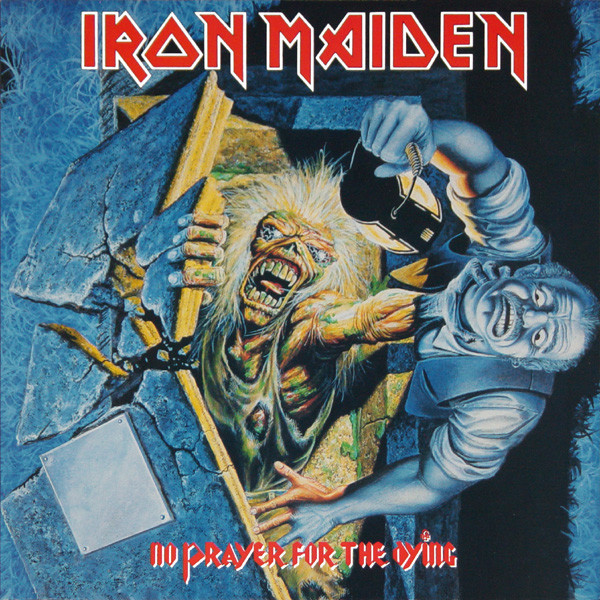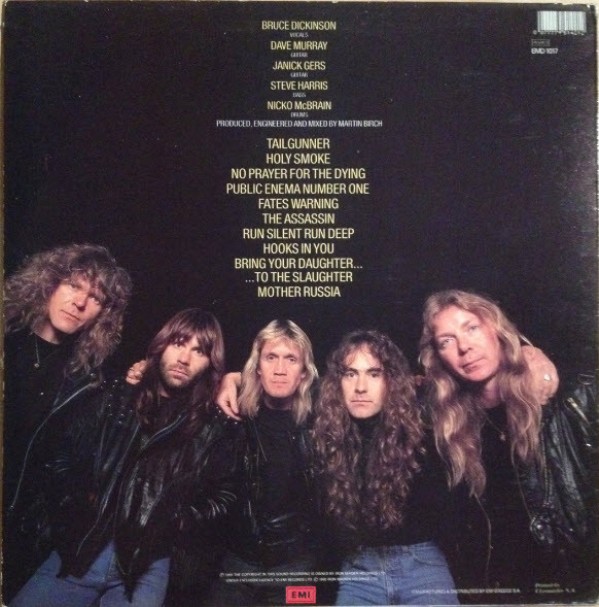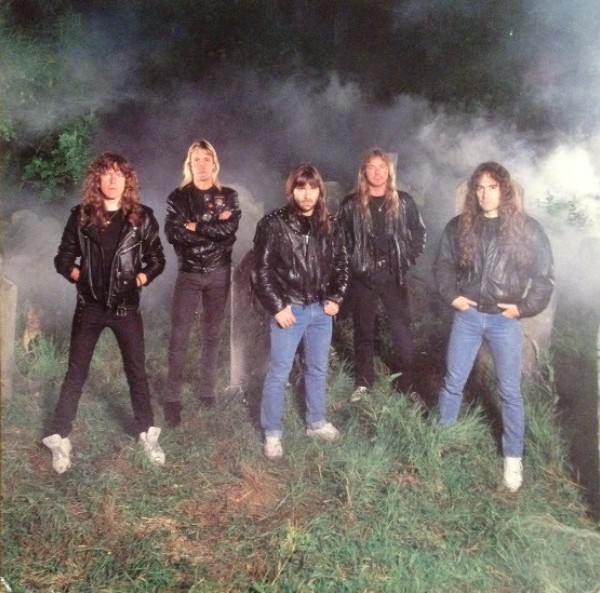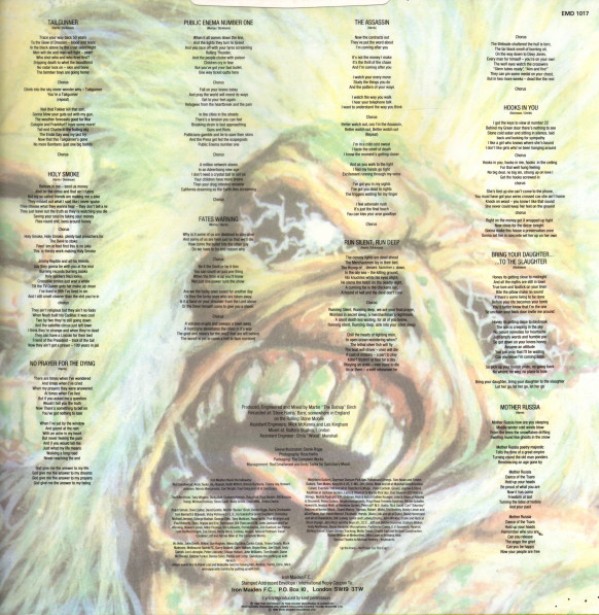 Released 1st october 1990
With their creative peak a few albums back in the rear-view mirror, Maiden failed to recapture the glories of old
with the wholly average No Prayer For The Dying.  
Even the ever-dependable artist Derek Riggs was off his game with this particular cover illustration.  
That schmuck Eddie is choking the shit out of looks too cartoonish compared to Eddie.  
Look at the level of detail on Eddie, and then look at the other guy.  
It doesn't work.  
A rare misfire from the great Riggs.  
(The '98 re-issue of the album omitted the schmuck and just had Eddie reaching out from the grave — a much better version.)
Bruce Dickinson tried a different vocal approach on No Prayer For The Dying,
opting for a raspy mid-range in an attempt to sound a little more "street".
Bruce just sounds like his voice was shot and he needed a lozenge.  
Except his voice was fine — he delivered his patented operatic style with aplomb when he wanted to.
No Prayer For The Dying starts off with the closest thing to a "classic" Maiden song that the album will offer, Tailgunner.  
While this song shows immense promise during the intro and verse, the chorus unloads a healthy dose of suck,
downgrading this song from "kick-ass" to just "okay".  
The remainder of the album is a mixed bag of decent Maiden and surprisingly sub-standard fodder.  
The tongue in cheek Bring Your Daughter… To The Slaughter was originally recorded by Bruce's solo band
for the movie A Nightmare On Elm Street 5: The Dream Child.  
Maiden re-recorded the tune for this album.  
Unfortunately this Dickinson-penned cut does not quite fit the Maiden mold.  
Though Bring Your Daughter… To The Slaughter was a big hit (in the U.K.), the song is weak by Maiden standards,
and reeks heavily of "novelty".
Fresh ideas had dried up by 1990, but the band had a trademark template and they stuck to it.  
The results were listenable simply because the template was so damn good.  
A bad Iron Maiden album isn't necessarily a bad album.
Retour aux sources...C'est ainsi que Steve Harris décrit "no prayer for the dying".
Il est vrai que succédé au monumental "seventh son of a seventh son" n'est pas chose aisé.
Ceci dit à force de réécouter ce 8ème album de Maiden, force est de reconnaître qu'il n'est pas si mal.
On trouve ici quelques morceaux bien rentre dedans comme "Tailgunner" qui ouvre l'album de façon assez violente
pour un groupe comme maiden.
S'en suit le plus rock'n'roll et festif "Holy smoke"(voir le clip!!!) pour enchaîné sur le morceau titre de toute beauté.
"The assassin" et "Run silent run deep" sont également de petites perles de Heavy Metal, tous comme
"Bring your daughter...to the slaughter" (présent sur la B.O. de freddy 5) qui est vraiment un morceau sympa à écouté.
Là ou le groupe fait quelque peu fausse route, c'est avec des morceaux comme "Public enema number one",
"Fates warning" ou "Hooks in you".
Ce ne sont pas des mauvais morceaux, loin de là, mais même si les refrains sont géniaux ils sont un peu en deçà par rapport
à ce que Maiden propose d'habitude.
Mais malgré ses trois titres un peu faible, ce disque se termine sur un "Mother Russia" absolument magnifique et bouleversant
de par son ambiance, ses couplets et le thème de la chanson (on est en 1990, je le rappelle!!!).
Alors pour finir, je dirais que sur 10 titres, il y en a 7 de géniaux et 3 un peu faiblard.
Mais malgré cela, Maiden reste Maiden et cet album se doit de figuré dans la "Maidenthéque" de tous fans qui se respecte.
Au passage, la pochette est pour ma part une des meilleures de Maiden avec son clin d'œil évident au classique "Live after death".
Commentaire que l'on trouve sur Amazon pour l'achat de cet album...


Similar topics
---
Permissions in this forum:
You
cannot
reply to topics in this forum